Parker Duofold Queen's Platinum Jubilee 2022 silver GT Fountain Pen
Sonnet
Parker Duofold Queen's Platinum Jubilee 2022 silver GT Fountain Pen
(2175078)
2022 marks 70 years since Queen Elizabeth II ascended the throne, the first British monarch to reach this milestone. As the holder of two Royal Warrants for recognition of service to the Royal Household, Parker proudly presents this special edition Duofold, to honour Her Majesty's Platinum Jubilee. Inspired by elements of the British crown, the cap and barrel are engraved with a design that creates a woven-like texture which gives a distinctly regal appearance. Available as a special edition in a prestige gift box, this Parker Duofold pen makes a fine addition to any collection.
Each pen comprises 22 components, individually hand-assembled.
To mark the occasion, the cap jewel features a specially designed commemorative 70th Jubilee stamping incorporating the Queen's Cypher. All trims are plated in 23k gold.
The signature Duofold nib of 18k solid gold, two tone with rhodium plating is emblazoned with a stamping of the St Edward's Crown, unique to this limited edition.
The Parker Duofold Queen's Platinum Jubilee 2022 Special Edition is fashioned from palladium coated 925 solid sliver and the cap and barrel design are intricately engraved to create a woven-like texture, giving a distinctly regal appearance.
| | |
| --- | --- |
| catalog No. | 2175078 |
| Series | Sonnet |
| Finish with | GT |
| Style | extravagant |
| Type of lacquer | pattern |
| Colour | silver |
| Nibs type | F |
| Nibs material | plated gold |
| Slim | no |
| Edition | limited |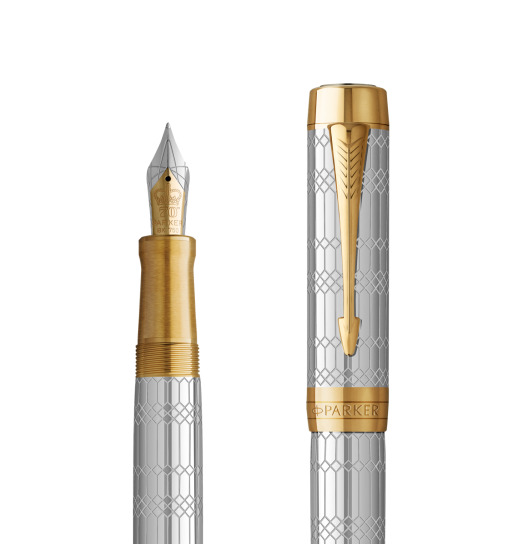 *-required fields
Contact form
Captcha

Similar products Sonnet

Give us a call on +48 668 949 599

Fast & safe delivery by GLS courier company

over 600 models to choose from